Don't just place a pumpkin on your doorstep. Make your home the star of the neighborhood this Fall with these easy decorating tips.
Brighten up your home with faux-liage.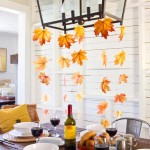 Take the beauty of fall foliage and bring it home. "Faux-liage" or "fake leafs" are a cheap and easy way to brighten up your home, giving it a festive touch. String them on your mantel, on the banister, or along the border of your doorway, to give your home some flair! These leafs are inexpensive and usually come in an assortment of bright colors.
Go for a woodsy feel.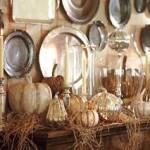 It's easy to go for the typical fall decorations; pumpkins, scarecrows, and spooky items. This fall give your home a more natural feel with pine-cones, artificial feathers, and gourds. Many of these items can literally be found right in your own backyard. It's cheap, and will give your home a rustic look the neighbors will love.
Use a pumpkin as your home address.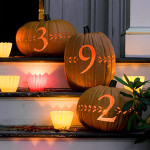 This fall etch or carve your home address into the surface of a pumpkin. This is both a creative and useful way to decorate the outside of your home, and will serve as a great conversation piece for visitors who stop by the house.
Spruce up the party buffet with pumpkins and gourds.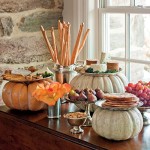 Looking for an interesting way to serve food at your fall party? Use pumpkins and gourds as plate holders. It will give your spread a festive look, and make specialty entrees stand out.
Front-Door Fall Farm.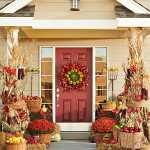 Don't just place pumpkins on the front steps. Get creative and bring the entire fall harvest. Dried out corn stalk, hay, and harvest vegetables make for festive decorations to greet guests as they walk to your front door. It's fun, easy, and cheap.
Blooming Pumpkin.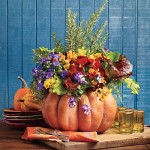 Everyone's heard of the blooming onion, but how about a blooming pumpkin? It's simple, carve out the top of a pumpkin, clear out the guts, let the inside dry, and then use it as a vase. You can use real or fake flowers, and if you're worried about rotting, use a fake pumpkin. This will make for a festive centerpiece or house decoration.