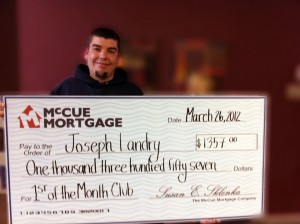 New Britain, CONN – (March 29,2012) Joseph Landry of Windham, CT got some great news this week as McCue Mortgage called to tell him he just won a free mortgage payment.All he had to do was make his mortgage payment on time… For nine years Joe made it a routine to send out his payment on the 23rd of every month, guaranteeing that he wouldn't miss it. Even while dealing with changes in employment and a struggling economy, he made his mortgage a priority.
It's for people like Joe Landry, that McCue Mortgage developed the "First of the Month Club". This incentive program recognizes customers that make their payments on time and also encourages borrowers to make their mortgage a priority. Each month a McCue Mortgage customer that makes their mortgage payment on or before the first of each month will be selected at random for a free mortgage payment. A large part of mortgage related issues begin with late payments. Each month payments seem to come in a little later than the previous. Once this pattern develops, the chances for delinquency and foreclosure increase exponentially. By the time the customer realizes what is happening, it's too late.
The First of the Month Club is designed to educate homeowner's and prepare them for dealing with the financial responsibilities of homeownership. The results lead to improved credit ratings, homeownership security, and savings. With stability homeowners can look for more savings through refinancing options or look for opportunities to upgrade their home.