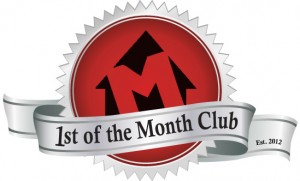 Win a free mortgage payment in the
"First of the Month Club"
Financial Fitness is a priority for every household. It leads to better credit, lower costs and more savings. To help you get financially fit, McCue Mortgage is rewarding our customers who make their payments on or before the first of the month. Each month we receive your payment on time, we will automatically enter you in a monthly drawing for a free mortgage payment. We hope you win!
To learn more about how paying on time affects your credit score, read Pay Your Mortage First.

Learn how to make your payment today with our latest payment option McCue Mortgage Speedpay
First of the Month Club Participation Rules
Contest is open to any customer who currently makes a monthly mortgage payment to The McCue Mortgage Company.
Employees of The McCue Mortgage Company are not eligible to participate.
Mortgage payments must be received on or before the 1st day of the month for which the payment is due. i.e. the payment must be on-time and current. Post marked payments on or before the 1st that are not received by the end of the business day on the 1st day of the month do not qualify. If the 1st day of the month falls on a non-business day (holiday or weekend) the payment must be processed by the end of the first business day of the month to qualify. The monthly payment must advance to the next due date to be eligible for the drawing.
Winner will receive a check for a full month's mortgage payment (principal, interest, taxes and insurance). No substitutions of prize will be allowed. If fees or advances are due to McCue Mortgage by the winner, those fees will be netted out of the winnings prior to McCue Mortgage's check disbursement to the winner.
Winner will be responsible for any and all tax consequences that may result from winning the drawing and will be issued an IRS form 1099.
Monthly drawing will be held during the second week of each month and winners will be posted on the McCue Mortgage website and notified by e-mail and or phone. Validation of good funds and payment source is necessary prior to award.
Winner must collect prize in person within 30 days.
Winner must be compliant with the terms of the loan.