We're always looking for a way to make working with McCue Mortgage an enjoyable experience. Whether it's a pumpkin carving contest to win a free mortgage payment or free tickets to watch a local sports team there are always chances to win free stuff!
Sign up for our email mailing list for:
Homebuying Advice and Resources
Homeownership Tips
Relevant Real-time Local and Industry News
Participate in our Contests and Promotions
and much more!
---
Like us on Facebook and follow us on Twitter to stay informed of our latest contests, prizes and giveaways.
There are no current promotions at this time. Please stay tuned!
---
Winners
At McCue Mortgage, our relationship with customers extends beyond the closing table. Over the past few years, we've given away dozens of prizes like ipads, free mortgage payments, tickets to family events and more. We want to engage our customers and help them be happy, successful homeowners while having a little fun along the way. Here's a sampling of some of our winners!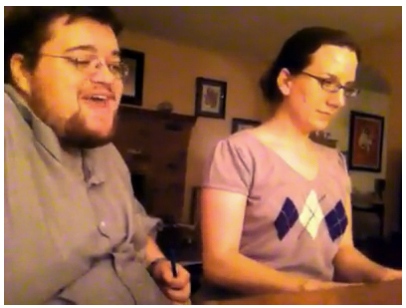 Sing Our Jingle Contest Winner Impresses! In honor of International Sing Out Day, we gave our customers, friends and followers the chance to win a $50 Visa gift card by singing our jingle! Contestants had one day to record and post their videos to our Facebook wall. Jordan Boss and his piano accompaniment won with their rendition! Visit us on Facebook to listen in!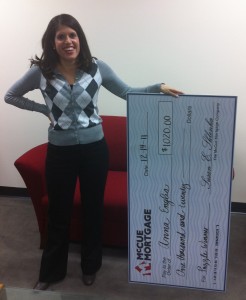 Trivia Puzzle Winner Receives Free Mortgage Payment! Anna Englis won a free mortgage payment for participating in the McCue Mortgage Puzzle Contest. In each of our newsletters, The Front Porch, there is a puzzle question that readers can respond to via email. Every right answer is put into a pool, and at the end of the year we draw from it one name to be our winner. Watch this video we created documenting Anna Englis's big win!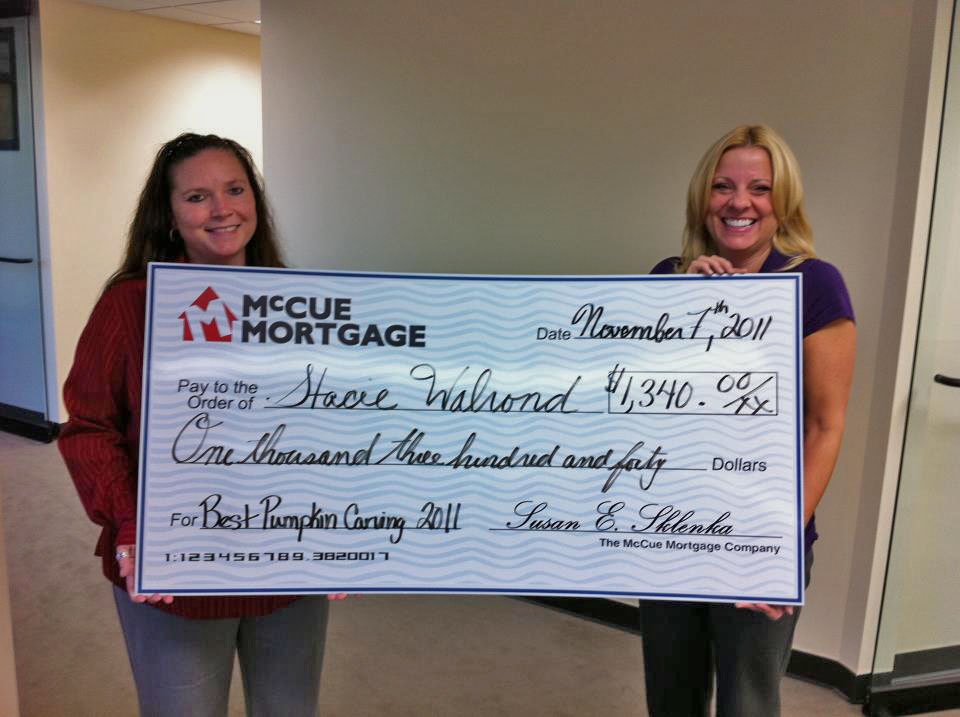 Pumpkin Carving Contest Winner Awarded with Free Mortgage Payment!The competition was stiff this year as McCue Mortgage received photos of customer pumpkin carvings ranging from spooky to sentimental. Stacie Walrond took the prize of a free mortgage payment with her creative "McCue" pumpkin featuring an eerie hilltop. To see pictures of Stacie's work and some of her competition check us out on Facebook! We appreciate everyone's entries and hope that we helped add a little more excitement to your Halloween season.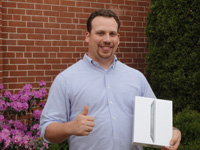 Facebook Fan Wins a Brand New iPad2! On April 26, 2011 Derek Hanssen of Groton was the winner of McCue Mortgage's first Facebook Fan giveaway and received a brand new iPad2 (recently released by Apple in the spring of 2011). Derek's name was one of over 2,200 McCue Mortgage Facebook fans that entered to win the online drawing. Derek loved his new iPad2 and proclaimed "Thank you McCue, you're the best!!" 🙂 View the video of Jesse Gnazzo drawing Derek's win below: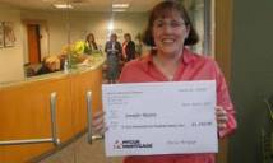 Enfield Homeowner Wins "Got Email? Win Cash!" ContestA group of co-workers look on in envious fashion as Jennifer Martin of Enfield receives a check worth one month's mortgage payment after winning McCue Mortgage's "Got Email? Win Cash!" contest on March 30, 2011. Jennifer's name was drawn out of a hat of almost 600 customer entries that submitted their email address for a chance to win. "My colleagues at work couldn't believe it, and were envious to say the least," said Jennifer. "I don't normally give my email out for contests, but I figured this was my mortgage company. I am glad I did."